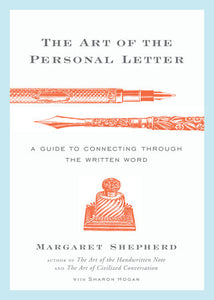 The Art Of The Personal Letter: A Guide To Connecting Through The Written Word
Regular price
$12.00
Sale price
$23.00
When was the last time you wrote a letter? Or received one in the mail?

The Art of the Personal Letter
 reclaims this lost art, giving you the gift of leisurely expression and allowing you to write beautiful, enduring letters to the people you care about—be it by hand or on a computer. For any occasion—whether you're reaching out to connect with a long-lost friend or
 you want to express condolences with grace—author Margaret Shepherd gives you both the inspiration and the tools to write a memorable and meaningful letter that will be cherished by its recipient for years.
---
More from this collection